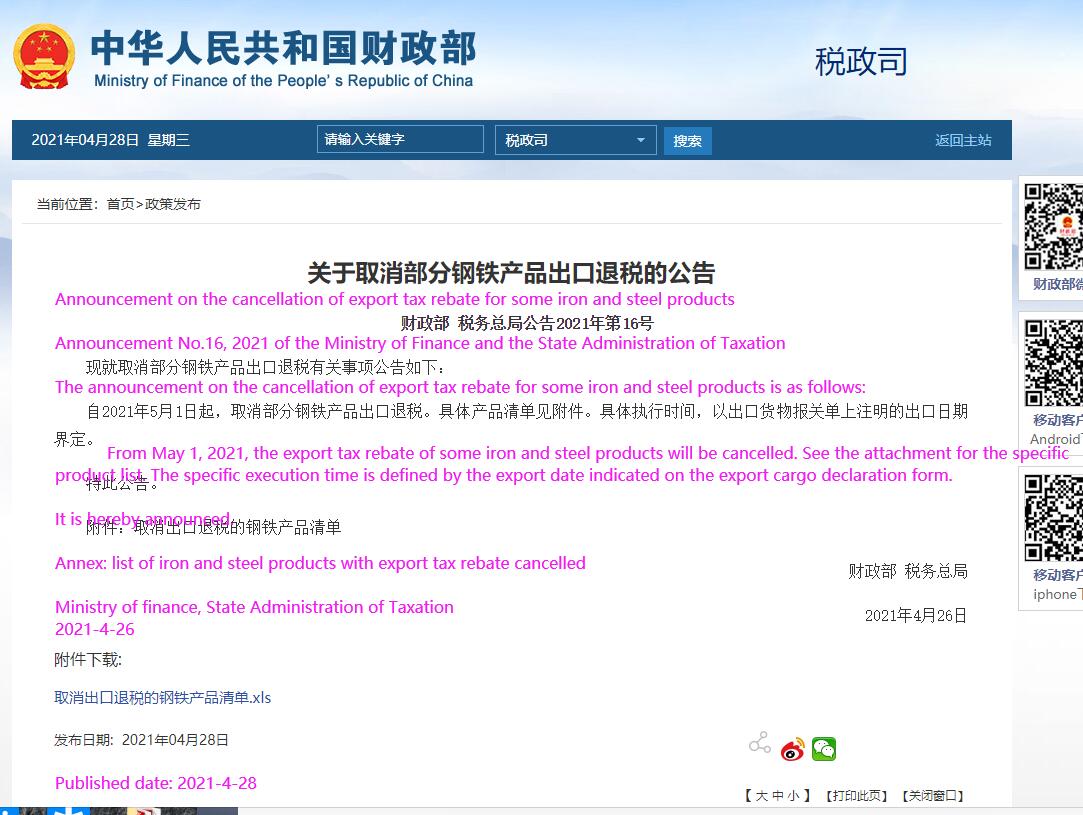 Kallanish Steel | April 28, 2021

The Ministry of Finance of China announced on 28 April that some steel products will see their export tax rebates canceled from 1 May. Most of these products were enjoying a full rebate of China's 13% VAT on export. At the same time, another annoucement from the Ministry shows that China is taking measures to boost steel imports in order to reduce domestic crude steel production.

According to the public document, export tax rebates for 146 steel products will be cancelled starting next month. In addition to alloy steel powder under HS code 7205.21.00, the HS codes of the steel products for which the tax rebates will be cancelled range from 7209.25.00 to 7307.99.00.

These products mainly include carbon steel cold-rolled sheets, coated non-alloy steel sheets, non-alloy bars and wire rods, coated non-alloy wire rods, hot-rolled stainless steel coil, sheets and plates, cold-rolled stainless steel coil, sheets and plates, stainless steel bars and wire rods, alloy-added hot-rolled coil, plates, alloy-added cold-rolled plates, coated alloy-added steel sheets, hot-rolled non-alloy and alloy-added rebar and wire rod, carbon and stainless steel pipes and sections.

Most of the steel products which have not had their rebate cancelled in the latest announcement, such as carbon steel HRC, have had rebates cancelled previously. Kallanish notes however that the export tax rebates for carbon and alloy steel cold-rolled coils (excluding sheet) and galvanized and galvalume coils have not been cancelled and so remain in place.

Customs data shows that in 2019 China exported 44.19 million tonnes of products to overseas markets under the HS codes which have had their rebates cancelled, down 6.08% year-on-year. This figur, then fell by 15.58% y-o-y to 37.31mt in 2020. In the first quarter of this year, export markets have performed strongly amid the global economic recovery. The export volume was 12.86mt with an increase of 29.78% y-o-y, exceeding the levels in the same period of the past three years.

In addition, another document from the Ministry of Finance removes import duties on pig iron, DRI, scrap, ferrochrome, carbon billet and stainless steel billet from 1 May. The export taxes on ferrosilicon, ferrochrome, high-purity pig iron and other products has meanwhile been raised by about 5%. ''The above adjustments are conducive to reducing import costs, expanding imports of steel resources, supporting domestic reduction in crude steel production, guiding the steel industry to reduce total energy consumption, and promoting the transformation and upgrading of the steel industry and high-quality development'', the Ministry says.